Clan Maclean Immortalized in Pleasanton
By Teresa Zieminski-Myers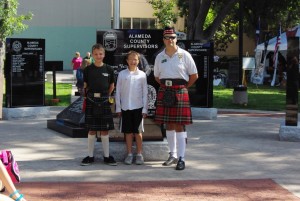 The Caledonian Club of San Francisco has been holding their annual games in Pleasanton since 1994 at the Alameda County Fairgrounds. The county fairgrounds are celebrating their 100th anniversary in 2012. As a fundraising event, the fairgrounds asked for local businesses and residents to purchase a commemorative brick to be used in a newly created historical monument to honor citizens, politicians and business that have made an impact in Alameda county. As our family resides in the neighboring city of Livermore, we were sent a letter of solicitation to purchase one of the bricks. Since have we spent so much time at the fairgrounds celebrating our Scottish heritage, we thought it would be fitting to order a brick on behalf of our great clan! We were invited to the special unveiling for donors and found the Maclean brick in the array. After looking around at the rest, we realized that we were the only clan that had responded in this way, and Clan Maclean will be immortalized for the next century (we hope) with our brick. You can see the Clan Maclean brick in the monument area, noted by five standing granite blocks, behind the grandstands in the area normally where the fiddlers and country dancers perform during the Scottish Games. If all else fails, during the games come by the Maclean tent and grab one of our boys, they'll be happy to point it out to you.